Boolean Modeling projects in mammalian cells. Building on each other's IS projects, a subset of my students model life, death, damage, epithelial to mesenchymal transition, and other interesting behaviors of mammalian cells (dots mark the modules a student developed, extended or analyzed):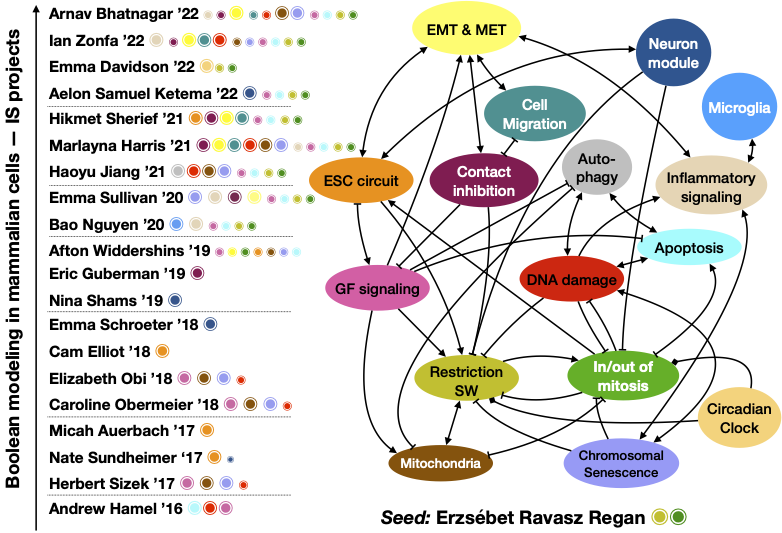 Boolean Modeling in baker's yeast. During the summer of 2o2o we embarked on a new project to model some of the conserved single-cell functions such as programmed cell death, or apoptosis, in yeast cells. This involved modules related to mitochondrial dynamics, MOMP, and DNA fragmentation. Stay tuned for its growth as more students take up the challenge.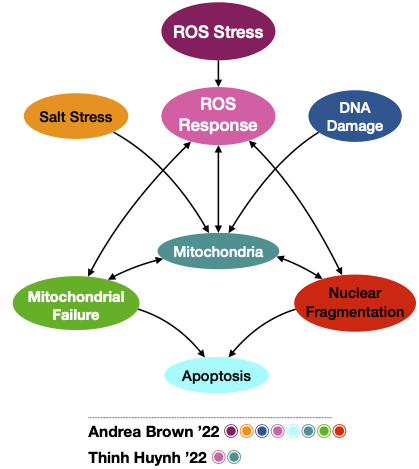 Other IS projects:

Epigenetics: modeling the dynamics of epigenetic marks at the Oct4 promoter
Viral communication: modeling the benefits of molecular communication between viruses as they influence the lysis-lysogeny switch of their neighbors
OARDC projects co-advised by faculty at the OARDC.
Bioinformaticsprojects: identification of transcriptional switches from single-cell time series data during development, mapping the functional impact of Phytophthora sojae effector proteins (with W. Morgan, Wooster)
Publications with IS students:

Eric Guberman, Hikmet Sherief, E. Ravasz Regan, Boolean model of anchorage dependence and contact inhibition points to coordinated inhibition but semi-independent induction of proliferation and migration, Computational and Structural Biotechnology Journal, 18: 2145, 2020.
Herbert Sizek, Andew Hamel, D. Deritei, S. Campbell, E. Ravasz Regan, Boolean model of growth signaling, cell cycle and apoptosis predicts the molecular mechanism of aberrant cell cycle progression driven by hyperactive PI3K. PLoS Computational Biology 15(3): e1006402, 2019.
Andrea Wade, CH Lin, C Kurkul, E Ravasz Regan, RM Johnson RM, Combined toxicity of insecticides and fungicides applied to California almond orchards to honey bee larvae and adults. Insects, 10(1), 20, 2019.
2022
Andrea Brown (BCMB) – The Seven Deadly Pathways: A Boolean Model of Yeast Apoptosis in Response to Reactive Oxygen Species, DNA damage, and Salt
Emma Davidson (Neurobiology) – Time Flies: An analysis of Circadian impact upon cell cycle regulation using Boolean modeling and a developmental Drosophila model
Aelon Ketema Samuel (Neurobiology) – A Knock-out Experiment on a Neuronal Boolean Model
Ian Zonfa (BCMB) – Boolean Modeling of the Interactions Between Inflammation, Hypoxia, and the Epithelial-Mesenchymal Transition (EMT)
Thinh Huynh (BCMB) – Characterization of a Potential Novel Redox Partner in S. Cerevisiae Mitochondrial Disulfide Relay System and in silico Elucidating Its Essentiality
Arnav Bhatnagar (BCMB) – Boolean Model of Mesenchymal Cell's Resistance to Chromosomal Senescence
2021
Hikmet Sherief (BCMB) – Modeling mechano-sensitive differentiation and reprogramming of embryonic stem cells
Marlayna Harris (BCMB) – Modeling the relationship between epithelial to mesenchymal transition and cellular senescence
Stuart Ball (BCMB) – Quantifying epithelial tissue fitness with a two-scale agent-based / Boolean model
Brieanna Jarell & Alyssa Ramirez (BCMB ; joint project co-advised by Stephanie Strand) – Experimental and computational study of the flocking phenotype of yeast and its parallels with EMT
Haoyu Jiang (Biology) – Investigation of Autophagy: Modeling the Cellular Responds to the Undernutrition Condition
Paige Sogandares (Biology) – Meta-Analysis of Antibiotic Resistance of Helicobacter pylori in Developing Countries (co-advised by the University of Arkansas for Medical Sciences)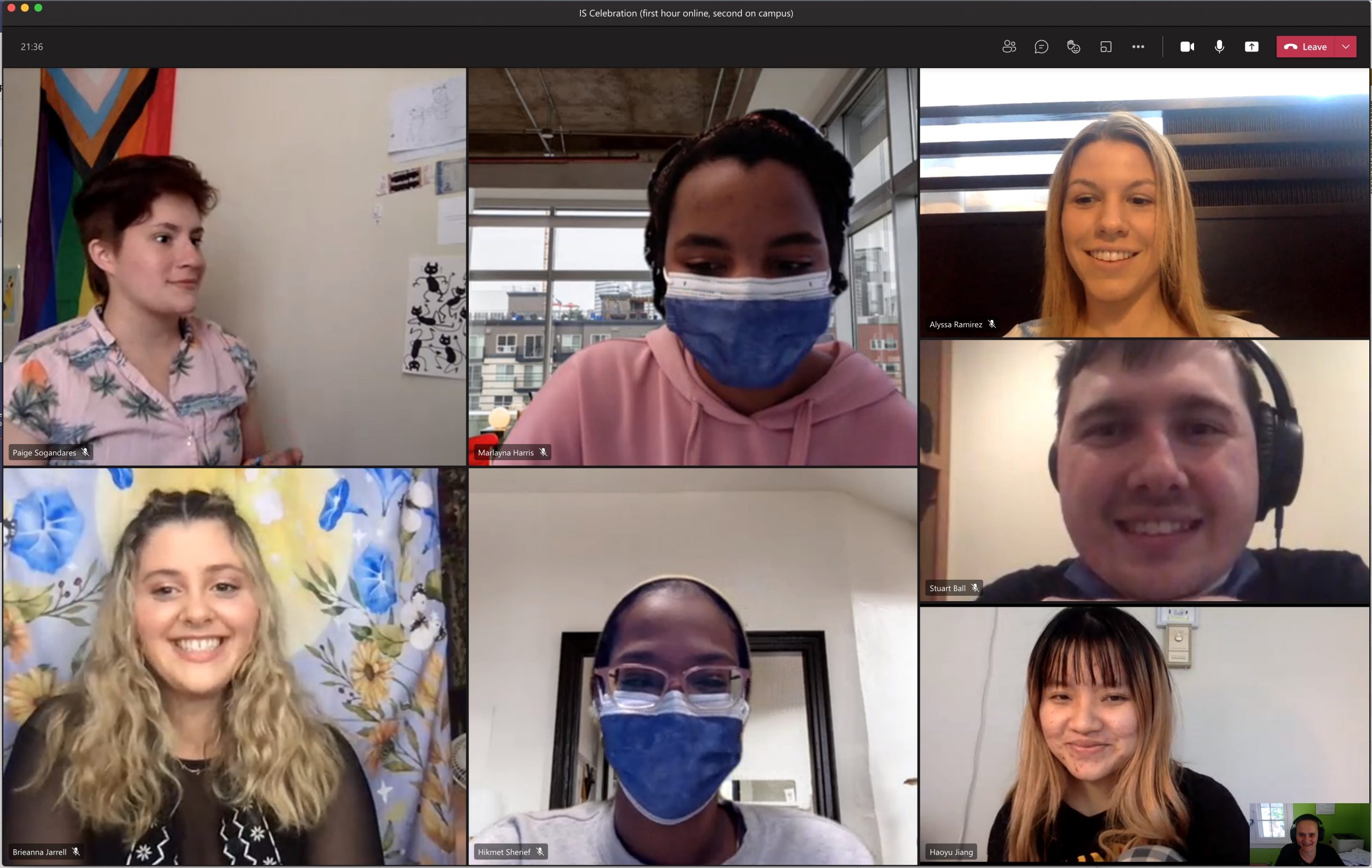 2020
Bao Nguyen (Neuro-BIO) – Modeling neuroinflammation by microglial activation, resolution of inflammation and return to a resting state
Emma Sullivan (Biology) – The senescence associated secretory phenotype promotes epithelial mesenchymal transition in neighboring cells
Qaiser Zaidi (BCMB) – Computational prediction of developmental switches from single-cell time-series RNA-seq data
Vi Huynh (BCMB & Math) – Computational Analysis of PsAvh172 Data to Investigate the Targets of Phytophthora sojae in Soybean Host — A Hierarchical Clustering Evaluation of Yeast RNA-Seq Data
2019
Afton Widdershins (BCMB) – Investigating the Development and Behavior of Heterogeneous Tumors
Carolina Shams (Neuro-BCMB) – Defying the System: A Boolean Model of Neuronal Fate Decision and Aberrant Cell Cycle Re-entry in Alzheimer's Disease
Eric Guberman (BCMB) – A Boolean Model of Contact Inhibition of Proliferation

Afton and Eric presenting their IS work at NetSci'19 in Burlington, Vermont
2018
Caroline Obermeier (Biology) – Modeling the Effect of p16 on Two Types of Senescence
Elizabeth Obi (BCMB) – Modeling the Effects of p14 and p53 on Common Oncogenic Pathways
Emma Schroeter (Neuroscience) – A Boolean Model of Neuronal Death upon Cell Cycle Re-entry
Campbell Elliott (BCMB) – Using a Boolean Model to Identify Requirements for Successful Yamanaka Reprogramming
Brendan Kelley-Bukovac (Biology) – Should You Lyse your Neighbors' Houses? This Model Says 'No': An In Silico Examination of the Interactions between Bacterial and Viral Populations in the Presence of the Arbitrium System for Viral Communications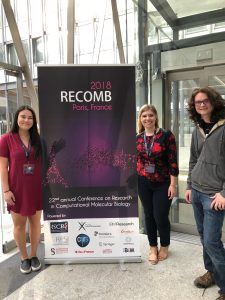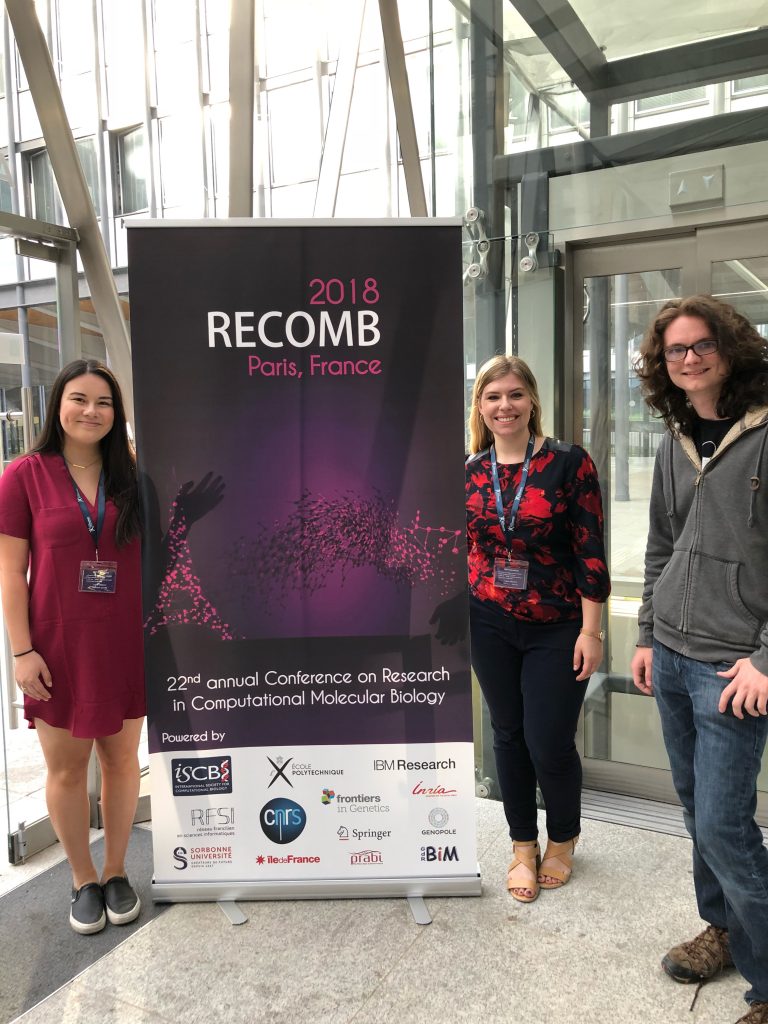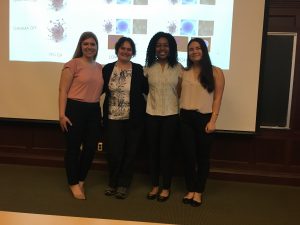 Left: Emma, Caroline and Cam presenting their IS work at Recomb'18 (Paris); Right: Elizabeth, Emma and Caroline after an amazing joint IS Symposium talk where they tied their very different IS projects into a single story.
2017
Micah Auerbach (BCMB) – A Boolean Model of Early Stem Cell Fate Decisions
Laura Cremer (Biology) – Modeling the Dynamics of Epigenetic Changes on Key Pluripotency Genes in Response to Reprogramming
Herbert Sizek (BCMB) – Modeling the Commitment to Senescence Through Mitochondrial Fusion and Chromosomal Restructuring
Nathan Sundheimer (Neuroscience) – A Boolean Modeling Approach to Understanding Synergies Between Cell Phenotypes in Early Neurogenesis
Andrea Wade (BCMB) – Insecticide Fungicide Interaction and Synergistic Toxicity in Honey Bees (work @ OARDC, Reed Johnson's Lab)

2016
Andrew Hamel (BCMB) – A Dynamical Systems Approach to Understanding Synergies Between Thyroid Cancer Mutations
Heather Skinner (BCMB) – The Putative Regulatory Role of Hydrogen Cyanide in Ethylene Signaling and Biosynthesis in Arabidopsis seedlings and tomato fruit (work @ OARDC, Christopher Taylor's Lab)